In a recent paper, we highlighted the benefits of allocating to Credit Risk Transfer (CRT) in multi-sector fixed income and securitized credit portfolios. CRT securities are floating-rate instruments that deliver minimal duration risk, credit spreads in excess of many fixed income sectors and, ultimately, the potential to increase risk-adjusted returns across a wide range of economic scenarios. In addition to these diversification benefits, investors in CRT securities can gain focused, direct exposure to U.S. housing markets and homeowners.
Recent developments in the insurance space may provide the CRT sector with yet another boost. The National Association of Insurance Commissioners (NAIC) released its 2016 designations for CRT securities. For participating insurance company investors, these designations govern the regulatory capital required to be held against CRT instruments.
Prior to the NAIC's recently released score update, the ratings designations for the CRT universe were limited to transactions where the severity associated with potential defaults was set at a fixed percentage, presumably enabling greater certainty in loss modeling by the NAIC. While the vast majority of these fixed severity transactions had been afforded NAIC 1 status, the non-fixed severity portion of the CRT universe had not been scored under this methodology.
In its 2016 release, the NAIC included inaugural loss modeling of non-fixed severity transactions, covering all transactions with greater than 15 months of seasoning and/or issued before September 16, 2016. The distribution of these new and updated designations are predominantly NAIC 1 (84%), followed by NAIC 2 (9%), corresponding with relatively low associated regulatory capital requirements for insurers. The remaining 2 scored bonds received NAIC 3 designations (2%) with just 5% of the universe not scored.
These scores are expected to encourage additional insurance company participation in CRT-related investment activity, which should be a positive for liquidity dynamics in the CRT sector going forward.
Recently Released NAIC Scores Should Boost Liquidity for Credit Risk Transfer Securities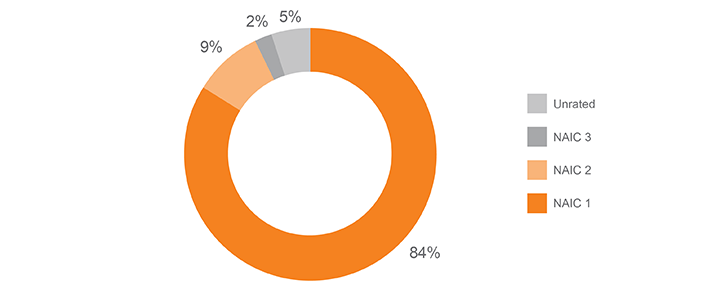 Source: National Association of Insurance Commissioners (NAIC). Represents 2016 NAIC ratings for non-fixed severity transactions, covering all transactions with greater than 15 months of seasoning and/or issued before September 16, 2016.
Past performance does not guarantee future results.
This commentary has been prepared by Voya Investment Management for informational purposes. Nothing contained herein should be construed as (i) an offer to sell or solicitation of an offer to buy any security or (ii) a recommendation as to the advisability of investing in, purchasing or selling any security. Any opinions expressed herein reflect our judgment and are subject to change. Certain of the statements contained herein are statements of future expectations and other forward-looking statements that are based on management's current views and assumptions and involve known and unknown risks and uncertainties that could cause actual results, performance or events to differ materially from those expressed or implied in such statements. Actual results, performance or events may differ materially from those in such statements due to, without limitation, (1) general economic conditions, (2) performance of financial markets, (3) changes in laws and regulations and (4) changes in the policies of governments and/or regulatory authorities. The opinions, views and information expressed in this commentary regarding holdings are subject to change without notice. The information provided regarding holdings is not a recommendation to buy or sell any security. Fund holdings are fluid and are subject to daily change based on market conditions and other factors.