The size of the U.S. high yield market increased steadily from the mid-1980s through early 2015, with pauses only in the telecom implosion of 2000 and the global financial crisis of 2008. Over the past two years, however, the high yield market has been steadily shrinking – this despite robust new issue activity and a tsunami of fallen angels downgraded from investment grade to high yield in the commodity crash of 2015-16. Since 3/31/2015, the par amount outstanding in the Bloomberg Barclays U.S. Corporate High Yield index has declined from $1.36 trillion to $1.29 trillion, and the number of issuers has declined from 1098 to 965.
So why is the high yield market shrinking and, more importantly, what does it mean for investors? First, let's explore the cause. Increasing defaults is one plausible explanation. And it's true that high yield did experience an uptick in defaults in the midst of the commodity crisis. But when we take a closer look it becomes clear that defaults are not responsible for the shrinking high yield market. The rate of defaults over the last two years was roughly in line with the market's historical average. Additionally, the rate of defaults was more than offset by the volume of commodity-related bonds that entered the high yield market via a ratings downgrade. Rather, most of the factors that drove the change were positive events for high-yield bond investors, including:
Acquisitions. As larger companies have struggled to generate top-line growth, they have increasingly turned to acquisitions. Many high yield companies have been absorbed by larger industry players, to the benefit of bondholders. Recent examples include HJ Heinz and NXP Semiconductors.
Upgrades. A number of high yield issuers have continued the balance sheet improvement that began after the financial crisis, eventually reaching metrics that convinced the rating agencies to move them to investment grade. This list includes names that were among the largest high yield issuers, companies such as General Motors, Sabine Pass and Constellation Brands.
Equity issuance Particularly in the energy and commodity sectors, high-yield issuers responded to the plunge in prices by issuing equity and selling assets – using the proceeds to reduce debt. Since the beginning of 2015, high yield energy companies have raised more than $40 billion through issuance of equity.
Shifting funding sources of high yield financials. The financials sector within high yield grew significantly through the financial crisis. Since that time, issuers such as CIT Group, Ally Financial and Navient have moved to diversify their funding sources, growing their deposit bases and reducing their reliance on the high yield bond market. 
Lack of intentional leveraging. Unlike the pre-crisis period when high yield issuance was boosted by large debt financed buyouts of names such as TXU, Caesar's and First Data, leveraged buyout activity and other aggressively financed M&A has been noticeably absent post-crisis.
We currently do not expect a material reversal of these trends, which suggests we could see the size of the high yield market decline further – or at least not grow – over the next couple years. With no sign that investor demand for yield is diminishing, we expect this to result in a strong technical bid for high yield bonds as buyers have less supply from which to choose. This is one of the factors supporting our thesis that high yield spreads are likely to go tighter as we move through the late innings of the current credit cycle.
Figure 1. High Yield Par Outstanding: Shrinking Supply Should Enhance the Technical Environment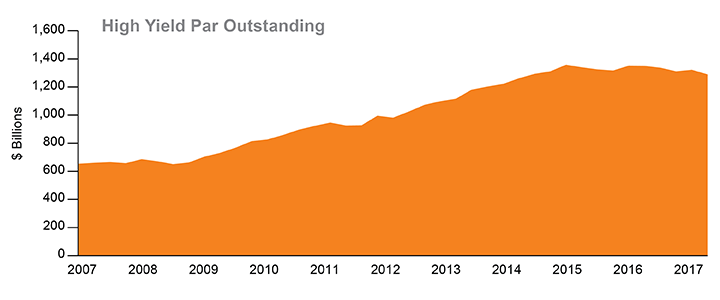 Source: Bloomberg Barclays. As of 06/19/2017. Represents par outstanding for the Bloomberg Barclays U.S. Corporate High Yield Index.
Past performance does not guarantee future results. 
This commentary has been prepared by Voya Investment Management for informational purposes. Nothing contained herein should be construed as (i) an offer to sell or solicitation of an offer to buy any security or (ii) a recommendation as to the advisability of investing in, purchasing or selling any security. Any opinions expressed herein reflect our judgment and are subject to change. Certain of the statements contained herein are statements of future expectations and other forward-looking statements that are based on management's current views and assumptions and involve known and unknown risks and uncertainties that could cause actual results, performance or events to differ materially from those expressed or implied in such statements. Actual results, performance or events may differ materially from those in such statements due to, without limitation, (1) general economic conditions, (2) performance of financial markets, (3) changes in laws and regulations and (4) changes in the policies of governments and/or regulatory authorities. The opinions, views and information expressed in this commentary regarding holdings are subject to change without notice. The information provided regarding holdings is not a recommendation to buy or sell any security. Fund holdings are fluid and are subject to daily change based on market conditions and other factors.