Recently, we assessed the likely impact of Hurricanes Irma and Harvey. Since then, we have received multiple questions from clients asking about the structures in place to protect residential mortgage-backed securities (RMBS) from hurricanes and other natural disasters.
As we now watch the aftermath of another storm, Hurricane Maria, we are once again reminded of the devastation and disruption these storms can cause. However, hurricanes and other natural disasters are not a new phenomenon. Risks posed by these storms are accounted for within RMBS structures and evaluated by investors. However, given the magnitude of the potential devastation associated with these recent storms in such a short time period, it is prudent to reassess this risk.
The bottom line is this: given the information received to date, we do not expect a change to our long-term, strategic outlook on mortgage-related risks and their key drivers. Tactically, however, distortions from the storms do present risk to RMBS investors. These risks span both private label (credit, prepayment) and agency (prepayment) RMBS markets and are outlined below.
Agency RMBS:
Prepayment risk remains mostly affected by interest rates, refinancing policies, and idiosyncratic servicer trends (particularly from the rise of non-bank servicers). This will not change as a result of the storms, despite the tragedy heaped on Texas and Florida, and now Puerto Rico. Accordingly, strategic positions will continue to be based on our assessment of risk along these dimensions.
On a near-term, tactical basis, prepayments will be impacted by the storms, as borrower payment patterns are upended in the struggle to repair damages and ultimately recover. With that reality in mind, assessing the magnitude of potential payment distortions is an initial first step and can be done by assessing exposure to areas impacted (Figure 1).
Figure 1. Agency RMBS Exposure to Areas Impacted by Hurricanes Harvey and Irma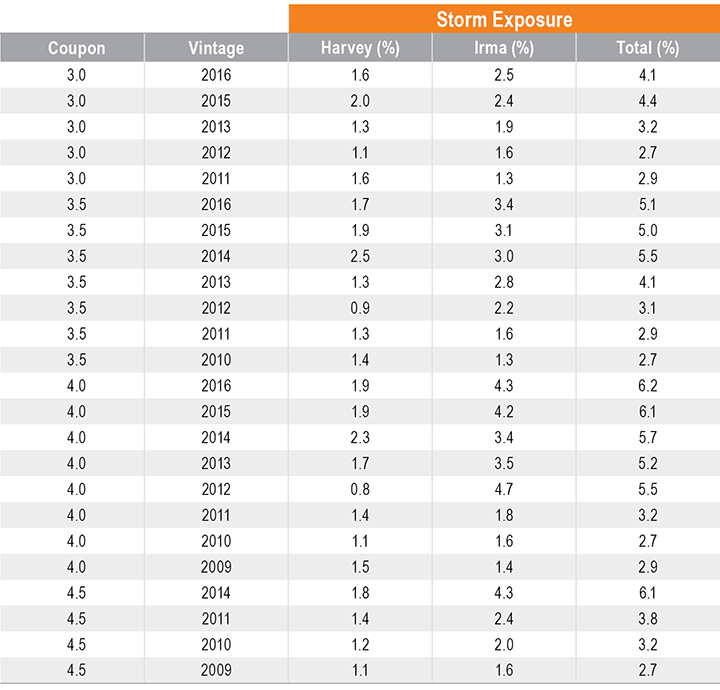 Source: FHLMC, FEMA, Nomura. As of Septebmer 2017.
GNMA Securities:
Compared to agency RMBS, GNMA's exposure to Harvey is slightly higher while the exposure to Irma is similar.
From our perspective, it seems likely that voluntary prepayments will decline in the near term due to the inability of homeowners to move and difficulties in obtaining accurate home appraisals. Deliquencies are also expected to rise in impacted areas. However, depending on the contribution of the exposures to diversified pools, the impact on prepayment speeds will vary across instruments in the next several months.
Importantly, the GSEs have provided notification that there will be mortgage payment grace periods for impacted borrowers of up to 12 months. We believe this will contribute to suppressed prepayments from these regions in the near term. 
Non-Agency RMBS:
Credit risk will remain mostly impacted by housing-market dynamics and mortgage credit availability, with idiosyncratic risks arising primarily along geographic dimensions over time. With positive momentum well established and directional consistency across the country, we expect the ongoing recovery in housing markets to continue and not be derailed by these storms, despite the destruction heaped on parts of Texas and Florida. Similarly, the still low but recently increasing availability of mortgage credit will likely not be disturbed by these natural disasters. Accordingly, we maintain a risk-seeking posture in the non-agency RMBS market.
Similarly, prepayment risk in non-agency RMBS transactions will continue to hinge on mortgage credit availability, although idiosyncratic developments and the rate environment will continue to play important roles.
As with agency RMBS, our tactical outlook is less sanguine. Clearly, the ability and willingness of borrowers to continue to make payments will be challenged as they recover from these storms. While various measures like insurance and government aid programs may help mitigate the near-term elevated credit risk in these areas, these measures won't eliminate this risk. As with agency RMBS, assessing this risk starts with measuring the magnitude of potential losses in the areas impacted (Figure 2).
We believe it is likely that defaults and severities will increase in the near term stemming from risks associated with homeowners losing willingness and/or capacity to make payments. Like agency RMBS, delinquencies are also expected to rise in impacted areas, to levels likely more severe than those that will ultimately default. Depending on the contribution of these geographic exposures in diversified pools, the impact on loss rates will vary across instruments in the next several quarters, before leveling off and becoming more reflective of a healthy, still recovering housing market. 
Figure 2. Non-Agency RMBS Exposure to Areas Impacted by Hurricanes Harvey and Irma

Source: Loan Performance, Intex, Nomura. Percentages for Harvey affected counties based on the list of 54 counties in Texas and five in Louisiana. As of September 2017.
Past performance does not guarantee future results. 
This commentary has been prepared by Voya Investment Management for informational purposes. Nothing contained herein should be construed as (i) an offer to sell or solicitation of an offer to buy any security or (ii) a recommendation as to the advisability of investing in, purchasing or selling any security. Any opinions expressed herein reflect our judgment and are subject to change. Certain of the statements contained herein are statements of future expectations and other forward-looking statements that are based on management's current views and assumptions and involve known and unknown risks and uncertainties that could cause actual results, performance or events to differ materially from those expressed or implied in such statements. Actual results, performance or events may differ materially from those in such statements due to, without limitation, (1) general economic conditions, (2) performance of financial markets, (3) changes in laws and regulations and (4) changes in the policies of governments and/or regulatory authorities. The opinions, views and information expressed in this commentary regarding holdings are subject to change without notice. The information provided regarding holdings is not a recommendation to buy or sell any security. Fund holdings are fluid and are subject to daily change based on market conditions and other factors.