The headlines surrounding subprime auto lending have been negative in recent years, extremely so at times. For investors in securitized credit, this year's broader slowdown in the overall auto industry has exacerbated concerns about the long standing problems outlined in these headlines. Tangentially related concerns stemming from student lending dynamics seem to have also registered more in the active conscience of market participants.
And with good reason – weakening industry dynamics can negatively impact collateral valuations, catalyzing an increase in borrower defaults. This pushes up the cost of credit and negatively impacts the macro-economic backdrop, which in turn reinforces the dynamic.
Does this vicious cycle sound familiar? The credit crisis - while an increasingly distant memory – offers risk takers a supremely poignant example of how bursting bubbles in seemingly isolated markets can spiral into a calamity of global proportions.
Parallels to the 2007 Mortgage Crisis
While a calamity of global proportions certainly feels far from the current reality, there is no question that the subprime auto loan market of 2017 has several striking parallels to the subprime mortgage market of 2007:
Deteriorating credit standards:

Increasing loan terms (up to 7 years)
Lower borrower FICOs (some programs now actively target 'deep' subprime borrowers, i.e. <550 FICO)
Increasing loan-to-value ratios (pools routinely average >100%)
Low emphasis on borrower income verification

Lending competition fueled, at least in part, by a host of new market entrants that rely on non-bank sources of capital
Increased usage of and reliance on leverage to fuel purchases (subprime loan balances first exceeded pre-crisis peak >2yrs ago), for assets that have experienced an extended period of price increases
Increasing incidents of fraud by market participants (both lenders and borrowers)
Are those enough to send chills down your spine? These direct, eerily precise parallels certainly warrant misgivings. Furthermore, recent performance data on the underlying loans have exhibited late-cycle borrower behavior and reinforces the notion of a lending market with bad leverage that is getting rationalized. Beyond the negative impact on households, some degree of pain will be absorbed by lenders and the auto industry. 
Analyzing Systemic Risk: Are Investors Really Staring Down the Edge of a Cliff?
With the assessment above, the degree of fallout and the potential for spillover into the broader macro-backdrop comes into focus. Is subprime auto lending really setting the market up for another global crisis? Before investors hit the panic button, let's take a step back to highlight the differences between the 2007 subprime mortgage market and today's subprime auto lending market:
New Regulation: New Dodd-Frank regulation has limited the amount of leverage in the system, created a regulator (Consumer Financial Protection Bureau for auto lenders) and fundamentally altered the way derivative and securitized markets work. From a subprime auto market perspective, this means there is no market of derivatives referencing already leveraged securitized transactions. And if a derivatives market were to emerge, new regulations require that the derivatives are cleared. In addition, since December 24, 2016, subprime auto asset-backed security (ABS) issuers are required to retain risk (5% prescribed) of each newly issued transaction, a measure that better aligns each issuer's interests with the interests of investors. And from a reporting perspective, investors are afforded increased transparency via Regulation AB, which requires ABS issuers to provide loan level disclosures. If these mechanisms were not in place, the growth in subprime auto lending may have indeed grown into a larger, more leveraged and toxic source of systemic risk than where things stand today.
Securitized Structures Are Less Leveraged: More durable rating agency methodologies are another legacy of the 2008 crisis. These new rating agency methodologies have proven to be more effective in governing the structural leverage within subprime auto loan securitizations. Structural protections - at least to date – have proven better calibrated to absorb 'through-the-cycle' loss volatility and are housed in simpler transaction structures with less tranching than pre-crisis issued mortgage deals. In addition, despite weak collateral performance for subprime auto ABS, the upgrade to downgrade ratios continue to astonish. For example, Standard & Poor's has not downgraded an auto ABS tranche since 2011, and upgrades have outpaced downgrades 1,816 to 39 since 2000.
More Efficient Recovery Process for Underlying Collateral: One of the lasting hallmarks of the credit crisis is the intense consideration and time required to foreclose on a residential mortgage. With average timelines currently measured in years (>4 years for recently processed foreclosures), the implications for recovering on defaulted mortgages is obviously negative. Conversely, repossession and resale of a car from a defaulted borrower is decidedly quicker and more efficient, supportive of higher recoveries for lenders.
Size Opens Eyes: Of perhaps greatest importance, private label subprime mortgage loans totaled >$1.4T at their peak in 2007. Current subprime auto loans are only a fraction of this number today—$179B according to TransUnion. When expanding the universe to include all loans, the size difference is even more stark: total mortgage credit totaled $11.3T in 2008, versus $1.1T in total auto loans today. While subprime auto loan balances are consequential, their relatively small size limits the degree to which they can disrupt macro-economic conditions. Even when you add student loans to the equation, the combined total does not even come close to the level of mortgage debt in 2008 (figure 1).
In addition to the differences outlined above, we believe today's relatively constructive macro backdrop (low unemployment, decent wage and economic growth, stable inflation, and low rates) should help mitigate the risk of a correction in auto lending standards evolving into something systemic. In fact, we believe that closely monitoring developments in subprime auto lending will likely reveal compelling opportunities for nimble, savvy securitized investors.
The bottom line: We do not believe problems in subprime auto lending pose systemic risk. 
Figure 1. It's No Contest: Current Auto Loans Don't Even Come Close to Mortgage Levels in 2008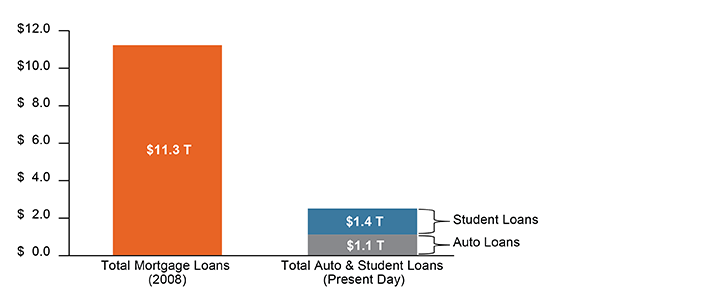 Source: Board of Governors of the Federal Reserve System. As of May 31, 2017.
Past performance does not guarantee future results. 
This commentary has been prepared by Voya Investment Management for informational purposes. Nothing contained herein should be construed as (i) an offer to sell or solicitation of an offer to buy any security or (ii) a recommendation as to the advisability of investing in, purchasing or selling any security. Any opinions expressed herein reflect our judgment and are subject to change. Certain of the statements contained herein are statements of future expectations and other forward-looking statements that are based on management's current views and assumptions and involve known and unknown risks and uncertainties that could cause actual results, performance or events to differ materially from those expressed or implied in such statements. Actual results, performance or events may differ materially from those in such statements due to, without limitation, (1) general economic conditions, (2) performance of financial markets, (3) changes in laws and regulations and (4) changes in the policies of governments and/or regulatory authorities. The opinions, views and information expressed in this commentary regarding holdings are subject to change without notice. The information provided regarding holdings is not a recommendation to buy or sell any security. Fund holdings are fluid and are subject to daily change based on market conditions and other factors.