While securitized credit has become an increasingly important component of multi-sector strategies like core and core plus fixed income, standalone exposure to the asset class has not been broadly accepted by the investment and consultant community. The small subset of investors who have embraced standalone securitized allocations tend to favor opportunistic strategies that emerged in the wake of the 2008 financial crisis, causing many to label securitized credit as a tactical "trade" that is often synonymous with the recovery of the broader housing market. While many investors are starting to question how long the current recovery can continue, we believe the housing market has room to expand. Comparing current economic data with 2007 economic data provides helpful context for the path forward (Figure 1).
Figure 1. Economic Data Suggests the U.S. Housing Market is Only Just Exiting the Recovery Phase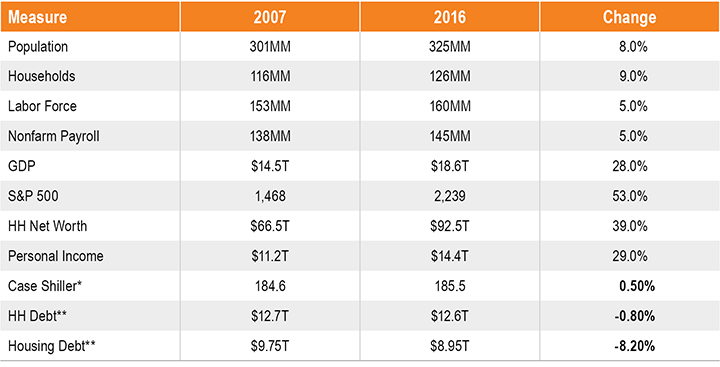 Data is as of end of December 31, 2016. Source: *Case-Shiller is an index that tracks nationwide, single-family housing values in the US; the beginning value is measured from its pre-crisis peak, which was set in July 2006 **Household Debt and Housing Debt are sourced from the Federal Reserve Bank of New York's Consumer Credit Panel/Equifax.
On the surface, it's easy to see why many investors believe the "housing trade" is nearing its end. As the Case Shiller Home Price proxy in Figure 1 shows, home values have reached levels set during the pre-crisis peak in July 2006. Additionally, total household debt is roughly the same as it was in 2007.
In isolation, these two metrics seem to suggest that the housing market has moved well past the "recovery" phase. However, a closer look at the broader macroeconomic backdrop tells a much different story:
The U.S. population has grown by 24 million people, an 8% increase from 2007
The U.S. labor force stands at 160 million, which is 7 million more than the labor force in 2007
The current number of households and nonfarm payrolls are higher, by 9% and 5% respectively
At nearly $19 trillion, GDP is 28% higher than it was in 2007
So while it's true that home prices and household debt have finally recovered to pre-crisis peaks, the current economic backdrop and demographics should provide ample dry powder to support continued demand for housing. We believe this will allow the housing market to move past the high-water marks set in 2006. It's also important to note that the recovery has been achieved under a greatly enhanced regulatory regime, which was redesigned in the wake of the credit crisis and deployed in recent years. The implications are broad-based, impacting Government Sponsored Enterprises (GSEs), securitizers, banks, broker-dealers, rating agencies, mortgage servicers and — perhaps most dramatically — mortgage lending standards. With stricter lending dynamics in play, leverage is less and mortgage loans exhibit credit characteristics vastly superior to those underwritten before the financial crisis.
Of course, it's equally important for investors to consider that mortgage loans are just one of the many ways investors can access securitized fixed income. In our recently published Market Insight, we reveal the benefits of investing across the full spectrum of the securitized credit market and explain why we believe the asset class has become a "through-the-cycle" allocation.
Past performance does not guarantee future results. 
This commentary has been prepared by Voya Investment Management for informational purposes. Nothing contained herein should be construed as (i) an offer to sell or solicitation of an offer to buy any security or (ii) a recommendation as to the advisability of investing in, purchasing or selling any security. Any opinions expressed herein reflect our judgment and are subject to change. Certain of the statements contained herein are statements of future expectations and other forward-looking statements that are based on management's current views and assumptions and involve known and unknown risks and uncertainties that could cause actual results, performance or events to differ materially from those expressed or implied in such statements. Actual results, performance or events may differ materially from those in such statements due to, without limitation, (1) general economic conditions, (2) performance of financial markets, (3) changes in laws and regulations and (4) changes in the policies of governments and/or regulatory authorities. The opinions, views and information expressed in this commentary regarding holdings are subject to change without notice. The information provided regarding holdings is not a recommendation to buy or sell any security. Fund holdings are fluid and are subject to daily change based on market conditions and other factors.