As we emerge from earnings season, we cannot help but feel surprised by the headlines, which are touting the strong earnings growth reported by companies. While we don't dispute the headline numbers, with equity valuations elevated, a number of individual stocks that missed expectations saw double-digit declines, making stock picking a treacherous exercise. Meanwhile, the VIX Index (Figure 1), which measures volatility, hit an all-time low at the end of July and the S&P 500 made history by posting its longest stretch since 1927 of consecutive days closing within 0.3% of the prior day's close. In other words, complacency is at its highest level in 90 years.
Figure 1. Volatility is Low (Complacency is High)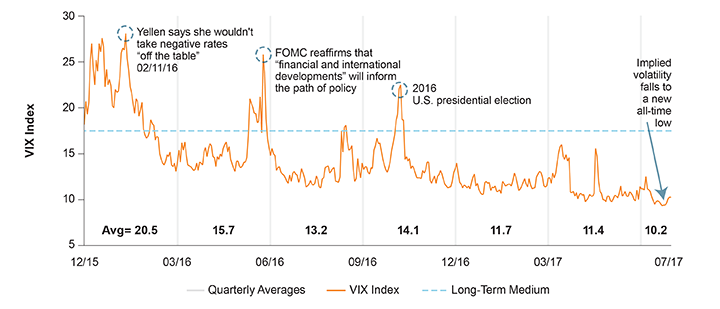 Source: ISI (used with permission). Data is through July 31, 2017
Hand in hand with this complacency is an increase in individual investors' allocations to equities and a decline in their allocations to cash. Based on the June AAII Asset Allocation Survey, equity allocations reached 68.8%, the highest since 2005 and well above the historical average of 60.5%. Allocations to cash, historically at 23.5%, are currently at 16.3%.
Elevated allocations to equities coupled with a richly valued stock market and record high levels of complacency leave investors exposed to wealth erosion. Add to that the theory that accommodative central bank policy has been a big contributor to the strong equity market returns, and it looks like there's a real possibility volatility could return very soon as the U.S. Federal Reserve begins to reduce its balance sheet. But what to do about it? Low volatility equity strategies may provide lower risk but are widely viewed as "crowded" trades at this point and, importantly, likely to underperform in a rising rate environment. In addition, we don't know when market volatility will return and, in the meantime, the markets could continue their solid run, which makes many low vol strategies unattractive as they typically can't keep up with strong equity markets. As Figure 2 shows, in the 1990s and 2000s the VIX index remained low for a number of years in both periods of expansion. In the 1990s, the S&P 500 Index gained more than 40% during the low-volatility years. In the 2000s, the S&P 500 Index increased ~15% when VIX was low. Investors in traditional low-vol strategies likely missed out on those gains.
Figure 2. The Problem with Trying to "Time" Low Vol Allocations: Traditional Strategies Tend to Underperform in Rising Markets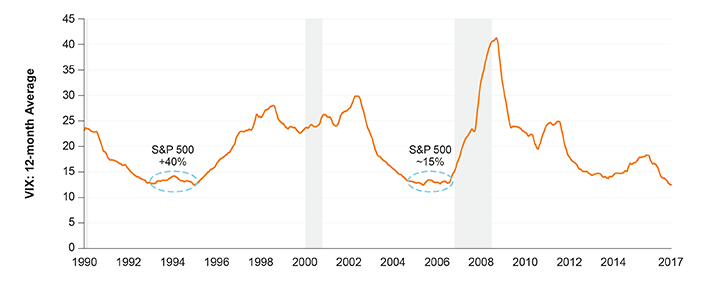 Source: ISI (used with permission). Data is through August 11, 2017.
So what options do investors have? We agree that the billions of dollars that have flowed into low vol strategies since 2011 – the last time the equity market saw elevated levels of volatility – has resulted in crowding. But that doesn't mean putting your head in the sand and ignoring the issue is the right approach.
At Voya Investment Management, we believe that low volatility investing is a long-term total return equity investment strategy, not a tactical trading strategy. At the same time, we understand the shortcomings of traditional low volatility products. Specifically, we believe that a low volatility investment strategy should be constructed to deliver downside protection while still participating in rising markets, and to stay diversified across sectors (and regions and countries in a global approach) in order to mitigate issues such as interest rate risk or "crowding." In our view, this approach leads to a low vol strategy with a better risk/return profile (e.g., higher Sharpe Ratio, better upside/downside balance), and is a more sustainable way to incorporate what should be an important component of any well diversified equity portfolio.
Do we have a crystal ball that can predict the end of the era of complacency? Absolutely not. But we believe that making an allocation to a well-constructed low volatility equity strategy now will look like a very wise decision when that era ends.
Past performance does not guarantee future results.
This commentary has been prepared by Voya Investment Management for informational purposes. Nothing contained herein should be construed as (i) an offer to sell or solicitation of an offer to buy any security or (ii) a recommendation as to the advisability of investing in, purchasing or selling any security. Any opinions expressed herein reflect our judgment and are subject to change. Certain of the statements contained herein are statements of future expectations and other forward-looking statements that are based on management's current views and assumptions and involve known and unknown risks and uncertainties that could cause actual results, performance or events to differ materially from those expressed or implied in such statements. Actual results, performance or events may differ materially from those in such statements due to, without limitation, (1) general economic conditions, (2) performance of financial markets, (3) changes in laws and regulations and (4) changes in the policies of governments and/or regulatory authorities. The opinions, views and information expressed in this commentary regarding holdings are subject to change without notice. The information provided regarding holdings is not a recommendation to buy or sell any security. Fund holdings are fluid and are subject to daily change based on market conditions and other factors.