In April, we provided support for allocations to high yield by rebutting three common arguments against the asset class. "Retail is the new energy" was an argument against high yield in April and one that continues today. Given the headlines surrounding the "demise" of retail, we believe it is appropriate to offer investors a deeper analysis of the topic and provide a broader perspective across credit markets.
During the past year, record store closings at Macy's, Sears, Kmart, JCPenney, Payless and Radio Shack have painted a dire picture of the U.S. retail sector. Some forecasters expect more retail stores to close in 2017 than during the financial crisis in 2008, leading to additional bankruptcies, layoffs, real estate defaults and equity/bond market losses. A deluge of media coverage devoted to the topic seems to portend that the closing of these well-known retailers is representative of substantial problems with U.S. retail spending, retail employment, and the entire U.S. investable credit market. However, if we step back and assess the severity of the current weakness within the retail sector in concert with the health of the overall U.S. economy, we gain a more balanced perspective on the situation. Are the specific problems facing Macy's and Sears emblematic of a massive decline in consumer spending, future labor loss and credit market weakness? We posit that current fears surrounding the magnitude and severity of the retail sector and its likelihood to spread throughout the credit markets are largely overstated. Despite the undeniable headwinds to traditional brick-and-mortar retailers from e-commerce and shifting consumer spending habits, we find that the area of retail specifically exposed to these risks is small in size, is largely held by institutions with limited leverage (unlike housing during the financial crisis), and is unlikely to spur extensive weakness across the U.S. economy and credit markets. Additionally, we find that overall retail spending and employment growth has held up well in spite of these store closings with other retailers replacing many of the jobs lost by the brick-and-mortar retail brands.
Despite the ominous-sounding store closings frequently reported by various news outlets, it is important to understand the context for the size of the retail sector within the investable credit markets. Specifically, the retail sector only comprises 3% of the U.S. investment grade (IG) and U.S. high yield (HY) indices. If we further narrow the focus to the specific areas of the retail sector that are likely to experience meaningful disruption, the exposure drops to less than 1% of the combined U.S. IG and HY index (figure 1). The levered loan (LL) market has moderately more exposure to the retail sector at about 5% of total, but the specific problem areas of retail account for only ~2% of the market. From our perspective, these absolute exposures are small and unlikely to cause overall credit spreads to widen significantly.
In contrast, the commodity exposure within the investable credit markets in 2014-2015 was much more significant (about 15% of the combined U.S. IG, HY and LL markets). For an individual sector to cause significant index spread widening, it generally needs to represent a large portion of the index and experience significant distress. Retail exposure within the investable credit markets is relatively small, is not held by highly-levered investors, and retail spreads are already trading near historic highs relative to the U.S. IG and HY indices.
In our assessment, the retail sector poses limited risk as a transmission mechanism for overall spread widening within the IG, HY, and LL markets. Despite the negative headlines and continued shifts in consumer spending, nominal retail sales have continued to grow in line with long-term trends and retail employment growth has remained relatively stable. While store closings, bankruptcies, and dying malls are likely to continue to occupy the front pages of newspapers throughout the next year, the direct effects on the investable credit markets are likely to be minimal.
Figure 1. Retail is only a Small Component of the Overall Credit Market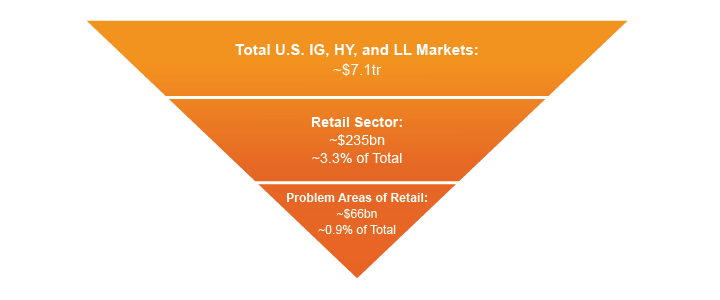 Source: Bloomberg-Barclays, Voya Investment Management
Past performance does not guarantee future results. 
This commentary has been prepared by Voya Investment Management for informational purposes. Nothing contained herein should be construed as (i) an offer to sell or solicitation of an offer to buy any security or (ii) a recommendation as to the advisability of investing in, purchasing or selling any security. Any opinions expressed herein reflect our judgment and are subject to change. Certain of the statements contained herein are statements of future expectations and other forward-looking statements that are based on management's current views and assumptions and involve known and unknown risks and uncertainties that could cause actual results, performance or events to differ materially from those expressed or implied in such statements. Actual results, performance or events may differ materially from those in such statements due to, without limitation, (1) general economic conditions, (2) performance of financial markets, (3) changes in laws and regulations and (4) changes in the policies of governments and/or regulatory authorities. The opinions, views and information expressed in this commentary regarding holdings are subject to change without notice. The information provided regarding holdings is not a recommendation to buy or sell any security. Fund holdings are fluid and are subject to daily change based on market conditions and other factors.