With many aspects of the US economy in decent shape, we believe spread widening in a recession is likely to be limited. Still, investors no longer need to overreach on risk. We think it makes sense to pair high-quality assets with versatile strategies able to capture attractive yields.
The economy has been resilient, but financial assets remain vulnerable
Balance sheets are healthy, with some initial signs of a wobble. US unemployment remains at a record low, consumers continue to spend for now, and companies have paid down debt, signaling that corporate America is preparing for a cold winter. Signs of slowing are starting to build: Housing prices are softening, the mortgage refinancing option has disappeared, overall prices are rising faster than wages, and job openings look to be hitting a plateau. As a result, consumers aren't chasing goods that might be more expensive next month — a buying behavior characteristic of inflation spirals. Meanwhile, corporations are seeing margins shrink, and labor continues to have the upper hand in wage negotiations due to the shortage of workers.
Figure 1: Cooling corporate fundamentals and higher rates are driving equity valuations lower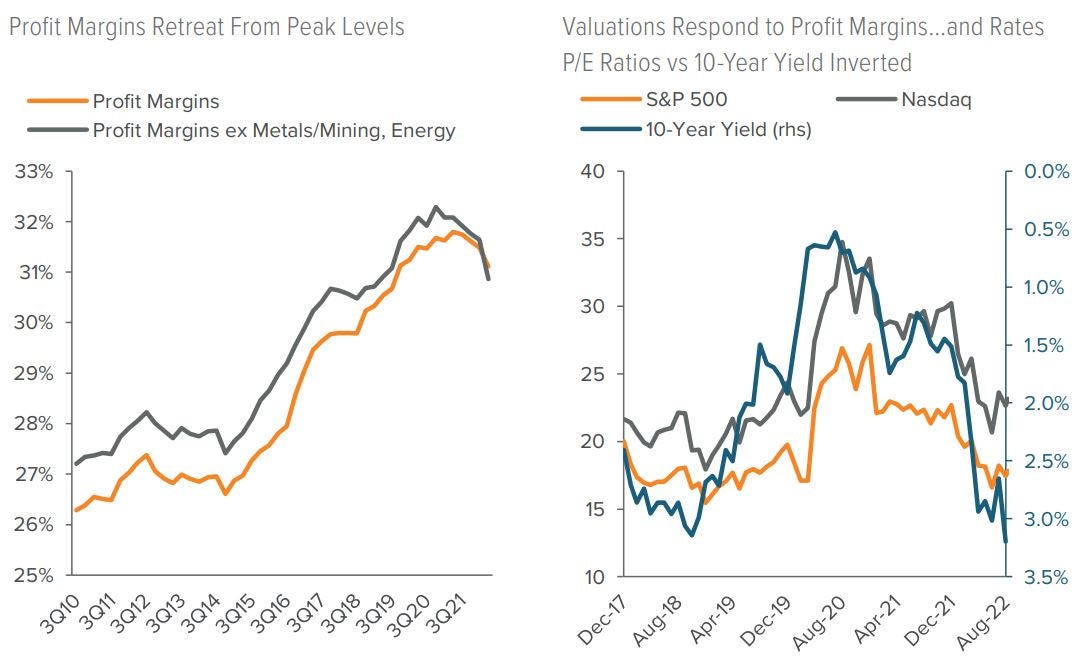 Chart 1 Source: JP Morgan. As of 06/30/22.
Chart 2 Source: Bloomberg. As of 06/30/22.
Fixed income is the low-hanging investment fruit. Despite the rise in interest rates in the US and abroad, credit spreads have not widened dramatically. This spread relationship between Treasury yields and credit suggests that investors remain confident in the economy. Most are not looking for rising default rates, and any recession the US may undergo should be on the mild side. But until the Fed eases up on rate hikes, we favor high-quality assets, including US agency and corporate investment grade bonds.
Signs of slowing inflation are emerging. Although inflation has been sticky, recent data are hinting at a moderation in rising prices. Of particular interest is the housing market, the biggest component of the key CPI inflation measure. Real-time rents are beginning to fall, and home prices, most notably on the west coast, have been weakening. Partly because of soft real estate, consumers are displaying fatigue, with lower bank balances, higher use of credit, and a savings rate that is now down to 3%. Shipping prices have been declining and bottlenecks have cleared, pointing to potential discounts heading into the holiday season. Slowing inflation will lead to a more friendly Fed, laying the foundation for a sustainable rally in fixed income.
Bond market outlook
Global rates: International interest rates have risen dramatically over the past month, with an unusually stubborn high level of bond volatility and tightening Fed policy, though we think current yields are attractive.
Investment grade corporates: Ongoing rate volatility has kept pressure on credit spreads, but issuers remain in good shape despite some signs of an economic slowdown.
High yield corporates: Spreads have widened in line with the Fed's actions. Although spreads and yields are high, high yield markets have not yet priced in the possibility of a deep recession.
Senior loans: We favor higher-quality borrowers given ongoing outflows and two notable defaults among index issuers.
Securitized assets: Performance has varied considerably among issues, highlighting the importance of asset selection; we favor RMBS in particular.
Emerging markets (EM): The Fed's restrictive monetary policy is a difficult backdrop for EM assets and is likely to continue until the Fed moderates its stance.
Rates, spreads and yields
Fixed income sector total returns as of September 30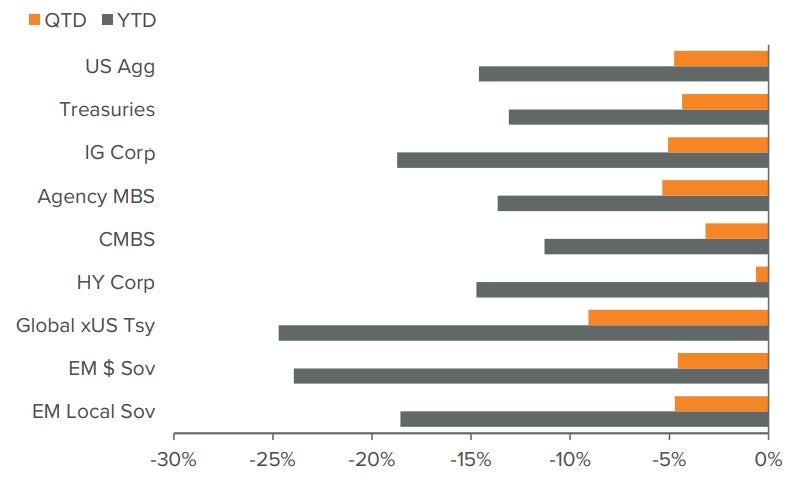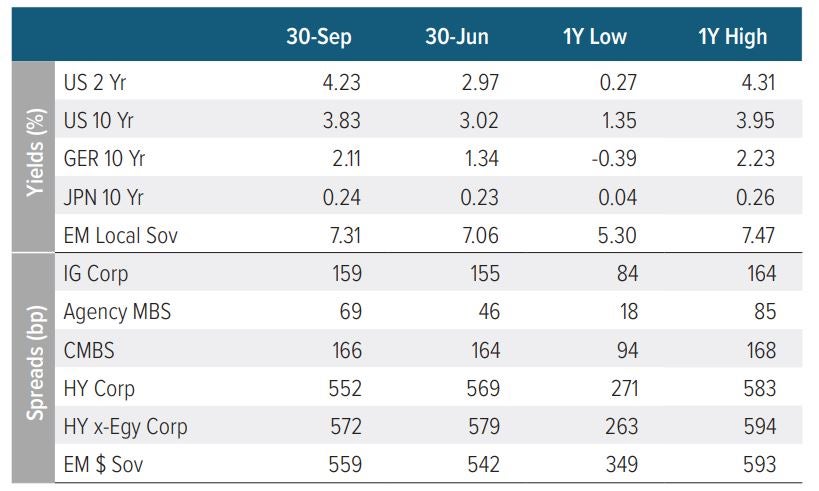 As of 09/30/22. Source: Bloomberg, JP Morgan and Voya Investment Management. Past performance is no guarantee of future results.
Sector outlooks
Global rates and currencies
In addition to a sharp move up in global rates over the past month, bond volatility has remained notably high, historically unusual behavior. Most typically bond volatility spikes higher but soon recedes. The rise in rates has been notable in all developed markets with the sole exception of Japan, where the BOJ remains resolute in buying 10-year Japan Government Bonds. Japan also benefits from a primary surplus, whereas, in contrast, the UK has large twin deficits and has recently endured the sharpest spike up in bond yields (Figure 2).
Figure 2: As global yields soar, bond volatility remains elevated
Global 10-Year Treasury Yields: 1/1/2018 – 9/30/22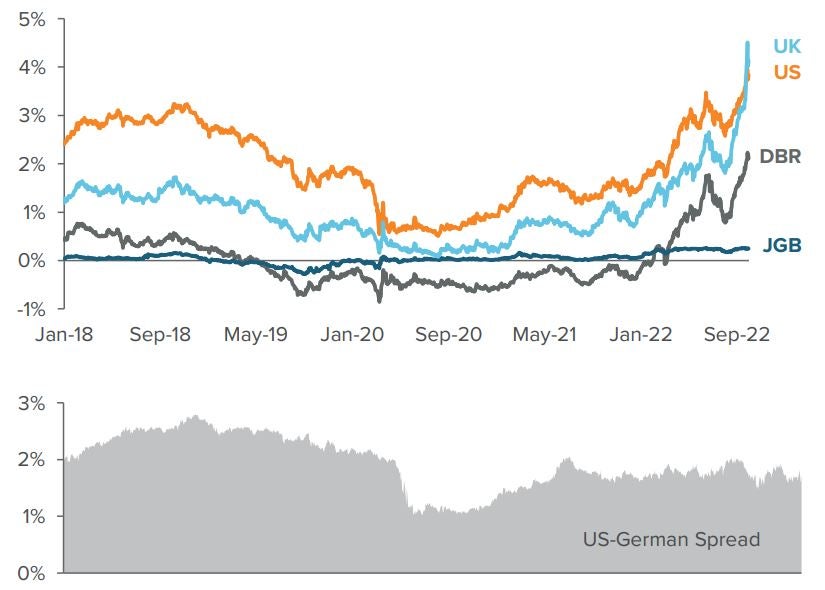 MOVE Index vs US Spreads: 1/1/2021 – 9/30/22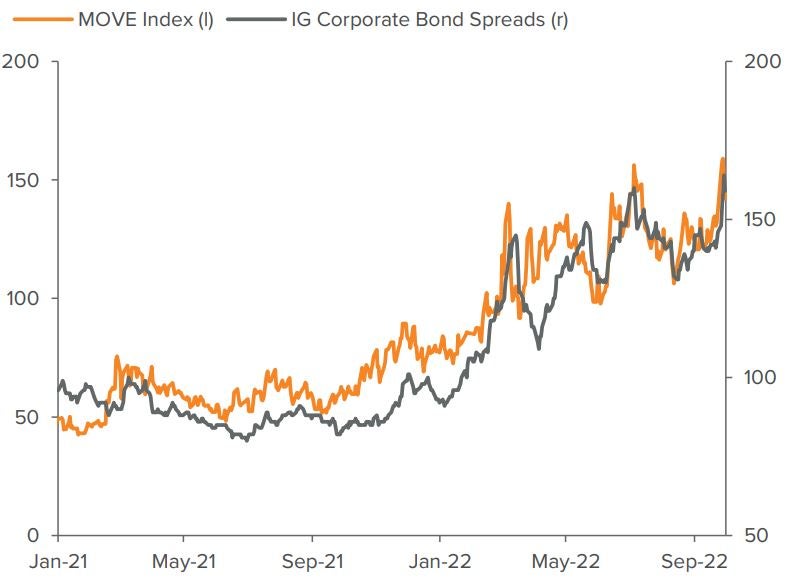 Source: Bloomberg Index Services Limited ICE BofA and Voya Investment Management. As of 09/30/22.
Despite the global nature of rate rises, the dollar index has remained strong. If the Fed remains the most aggressive of developed market central banks, we expect this strength to continue. The market expectation for the November Fed meeting is a hike of 75 bp, and we think the Fed will deliver that increase, with a smaller hike at the Fed's December FOMC meeting. We expect the dollar's strength to endure for some time due primarily to an aggressive Fed. The firm dollar will also work to tug inflation lower.
Investment grade corporates
Rate volatility has remained at very high levels, keeping continuous pressure on IG spreads, now wider by 67 bp this year to date. Volatility drove IG outflows, with the last week of September seeing the fifth largest outflow on record. The lack of demand weighed on issuers, which in aggregate issued only $84 billion vs. an expected $150 billion, with most new issues from high-quality corporations and financial enterprises. Corporate fundamentals in the US are still positive, but we expect growth to slow, exerting more pressure on IG bonds. Additionally, the strong dollar, European energy crisis, and severe stress in UK financial markets will work to keep spreads elevated, so we maintain a cautious outlook.
High yield corporates
The greater than expected aggressive tone of the Fed over the past several weeks was too much for high yield markets to bear. HY spreads reached their widest point of the year, a largely uniform sell-off across the quality spectrum until the last few days of September, when riskier issues took an extra leg down. The dilemma for high yield investors is the depth of the (so far) technical recession the US is experiencing. HY will tolerate a moderate slowdown, but a hard landing isn't yet priced in. We don't think the worst-case scenario is likely, but the market has not accounted for that possibility, and there is plenty of room for HY spreads to widen.
Senior loans
The backdrop for senior loans over the past month has become more challenging. On the fundamental side, we're seeing cracks in sectors subject to discretionary consumer spending. In addition, persistent inflation, input costs, tight labor, and some supply chain issues remain key headwinds. We will likely see continued stresses as we head into year-end. On the technical side, loan funds saw outflows of $6.8 billion, with new loan issuance on the light side overall. The forward calendar for new issuance is also relatively quiet.
Default activity picked up in September, with two index issuers defaulting over the period. Total losses are still rather low with a trailing 12-month default rate of 0.9%, still well below historical averages. Unless there is a material worsening of macroeconomic conditions, we expect default rates to remain on the low side. Downgrade activity, however, is likely to increase. Consequently, we're looking for opportunities to trade out of weaker B-rated names in favor of stronger credits with similar if somewhat lower yields. We have also recently increased our BB-rated exposure.
Securitized assets
Despite a widening of spreads in RMBS markets over the month of September, we are maintaining our Positive assessment. The sector has had to price a complicated mix of lower prepayments and shifting sub-sector supply, with some sub-sectors seeing increasing issuance, while others were in retreat. While RMBS prices have been volatile, the outlook within the sector is decidedly more stable as issuance has stabilized and the forward pipeline has lightened substantially. Add in historically wide spreads and high yields along with supportive mortgage credit fundamentals and we expect outperformance into the foreseeable future.
Similarly, CLO spreads widened over the past month, but we are shifting our rating from Negative to Positive. September's sell-off was a rout, but the space is now fairly valued and positioned to at least keep up with higher beta sectors in the event of a relief rally. To the extent such a rally is accompanied by a continued rise in rates, the space will outperform. Issuance is down about 30% year over year, and yields have reached attractive levels. Our conviction in this call, however, is relatively low, tempered by high bond volatility overall, and a somewhat higher risk of default.
Like most securitized markets, consumer ABS spreads widened this past month, though performance varied considerably across segments. With yields and spreads at elevated levels, the space has room to run if a relief rally emerges. Resilient overall underlying collateral performance and the buoyant labor market has further supported risk taking here, even though cracks have emerged in other risk markets. Consumer ABS provides access to a wide array of forms of consumer credit, housed in robust structures that offer liquidity with relatively short durations as well as attractive income streams.
Though we've been upbeat on commercial mortgage-backed securities (CMBS), we are less enthusiastic than we've been in prior months. Volatility has been high, driving down performance last month, and we expect that turbulence to limit the market's ability to outperform. We are downgrading our tactical assessment (1-3 months) to Negative. Over the longer term, however, we remain positive on the sector given the ongoing reopening of the economy following the pandemic.
Emerging market debt
EM bonds reversed their positive performance of the previous month, with spreads widening in reaction to the Fed's hawkish FOMC meeting. Notably, however, EM bonds outperformed US credit on a ratings-adjusted basis during the month's global rise in rates. We remain cautious on the sector given that global inflation pressures are likely to continue over the near term, and equity and bond volatility remain quite high. Although there is some chance that China will deliver a stimulus package that would improve EM markets in general, Covid continues to complicate China's economic performance and credit conditions.