We see scope for continued global equity gains as the impacts from Covid, policy stimulus and inflation diminish. The current balance of market factors keeps us overweight U.S. large cap stocks.
The end of December marked another strong month, quarter and year for stocks. Forcefully accommodative and persistent monetary and fiscal policy, along with COVID vaccine rollouts and an impressively adaptable global economy drove big gains in risk assets. The ascent wasn't particularly smooth, as several new coronavirus variants emerged to thwart attempts at broad-based, full-fledged reopening. Aside from the high levels of distress that come from a public health crisis, prolongation of the pandemic resulted in additional negative impacts on the supply of labor and costs of core goods. These two forces, coupled with related and exogenous rises in commodity prices, united to drive inflation higher. Soaring prices and a still highly tumultuous political environment gave some investors pause, but market participants eventually shrugged off each worry, continuing to buy stocks as economic activity proved resilient. U.S. GDP growth clocked in at 2.3% in the third quarter as the Delta variant introduced a hiccup in activity, delaying yet not impairing a period of above-trend economic gains. Labor markets are tightening, with the U.S. unemployment rate declining to 3.9% in December and job openings continuing to exceed job seekers, indicating the labor market is quickly approaching full-employment. This dynamic is putting upward pressure on wages and has contributed to inflation running above the Federal Reserve's 2% target since April, with November Core PCE hitting 4.7% YoY. Sharply higher prices caused the Fed to hasten its plan to withdraw stimulus. The pace and path to policy normalization will be a key market factor for the year ahead.
Tactical Indicators
Figure 1. Despite the latest wave of cases, the economic impact of virus control measures has been relatively modest
Covid cases vs. Goldman Sachs effective lockdown index: 7-day moving average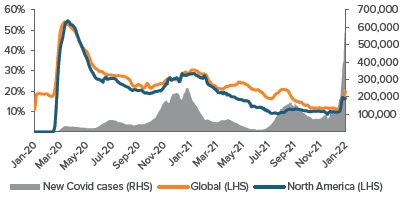 Source: Our World in Data, Goldman Sachs, as of 01/07/22.
Figure 2. Developed markets are starting to follow emerging market central banks in withdrawing policy accommodation
Count of global central bank hikes over last 12 months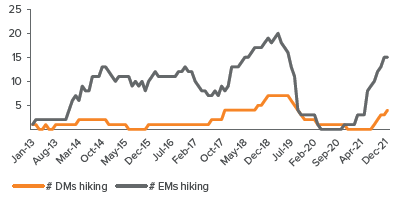 Source: Bloomberg, Voya Investment Management, as of 12/31/21; the graph incorporates 14 developed market (DM) central banks and 34 emerging market (EM) central banks.
Figure 3. Supply constraints are high, but there are signs of easing
Shipping costs and delivery times have come down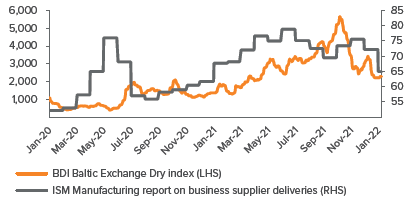 Source: Bloomberg, Voya Investment Management, as of 12/31/21.
Portfolio Positioning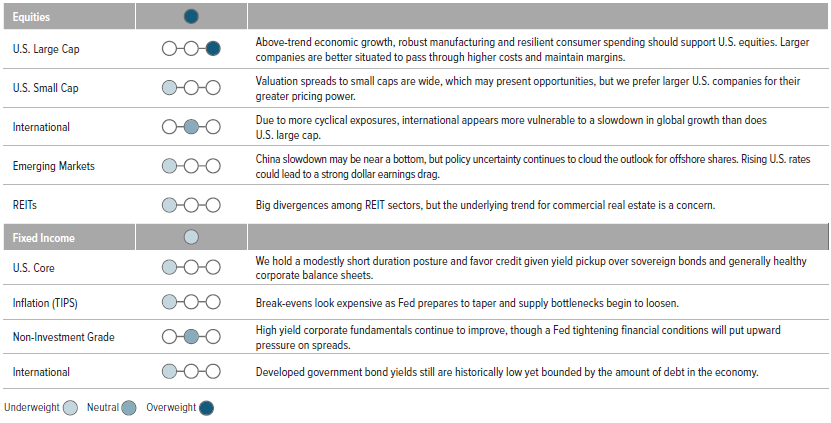 Investment Outlook
Covid could be with us for the long run, but we are learning to live with it: successive waves of infection from new mutations have exerted diminishing impacts on economic activity (Figure 1). U.S. consumer balance sheets have improved dramatically from the early days of the pandemic. With less risk of lockdowns, high demand for labor and more than $2 trillion in excess savings, there are more self-sufficient individuals who are well positioned to contribute to the next leg of growth in 2022. In addition, capital goods orders have taken off; when considered alongside exceedingly slim inventories, capital expenditures are likely to be strong in the coming year. We recognize that monetary and fiscal policy likely will continue to become less accommodative in 2022 (Figure 2), leaving economies with fewer supports. This could lead to bouts of fragility and volatility. However, we also see potentially powerful offsets to tightening financial conditions, including a drawdown of consumer savings and corporate inventory rebuilding. These factors make us believe there is scope for continued global equity gains. What's more, we think equity market risk premia have room to absorb modestly higher rates. Though certain pockets of the market are vulnerable to tighter financial conditions, sell-offs in those pockets shouldn't crash the entire equity market. Funding costs are rising but remain near record lows, and strong fundamentals should insulate credit spreads from rising rates. Still, inflation and profit dynamics are critical variables affecting this outlook.
The economy only reopens once; we project 2022 above-trend inflation generally will be supply driven and abate as bottlenecks ease (Figure 3). The Fed's policy tools are not tuned to resolve supply side issues ― that is why the Fed will look past impermanent price pressures and allow inflation to decelerate naturally, as delivery costs come down, more supply comes online and more workers re-enter the labor force. Furthermore, we expect the handoff from goods to services to happen gradually. A sharp rise in wages from prolonged labor market tightness is possible, but firms, particularly larger ones, have been able to pass through rising input costs to maintain margins. This is likely to continue and, combined with still above-trend GDP growth, will support earnings growth in 2022. S&P 500 companies historically have demonstrated greater pricing power than smaller companies; this fact underpins the retention of our overweight to U.S. large cap stocks.