Voya Perspectives Series | Talking Points
The S&P/LSTA Leveraged Loan Index (the "Index") added 9 bps for the week.
Volatility across most risk markets spiked again, as tariff talk sparked fears of the unknown. The loan market, fittingly, lived up to its low-vol reputation.
While new issue launch volume was lower, the overall pace remained decent. Secondary action was relatively quiet as traders waited for cues from action in other markets, while PMs remained focused on the primary.
The forward calendar got a little lighter: visible net new supply totals about $7.8 billion, off the previous week's $11.2 billion.
Eight CLOs priced this week, and retail loan fund flows continued to experience modest inflows ($96 million for the five days ended Feb 28; Lipper FMI universe).
While there were no defaults in the Index this week, iHeartMedia continues to loom large across the loan and HYB markets.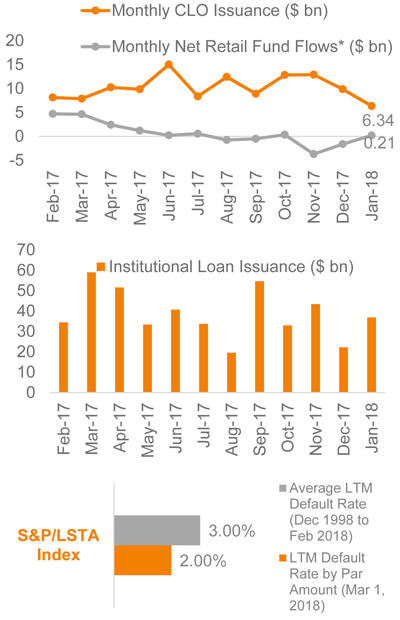 *S&P/LCD estimate.
Source: S&P/LCD, S&P/LSTA Leveraged Loan Index and S&P Global Market Intelligence
Past performance is no guarantee of future results. Investors cannot invest directly in the Index.
February
The U.S. loan market held steady in what was a turbulent month for other asset classes. With the Dow dropping over 1000 points and U.S. HYB losing 93 bps, the Index again proved resilient by posting a respectable 0.20% gain (atop a 96 bps advance in January). February was the first month since October of 2016 in which the loan market outperformed both bonds and equites. Welcome to higher volatility (at least for now).
There was an uptick in new issue activity in February with a total of $41.8 billion allocated, driven largely by a surge in M&A-related supply. With refinancing activity (seemingly) tapering off and new issuance picking up, the size of the Index, as measured by total par outstanding, grew by $15 billion, to a record $984 billion.
On the other side of the ledger, demand also expanded. CLO issuance came in at $15 billion in February, easily eclipsing January's figure of $6.5 billion, and outpacing the trailing 12-month average of $10.9 billion. LCD reported net inflows of $860 million into retail funds, the highest recording since April of 2017.
Returns by rating cohort reflected last month's risk-on sentiment, as riskier credits topped their higher-rated counterparts. CCCs led the Index with a 0.43% return, followed by Single Bs, which advanced by 21 bps, nearly inline with the broad Index. BBs experienced a modest return of 0.08% for the period.
There was one default in the Index during the month (Remington Outdoor). As a result, the default rate by amount outstanding moved up five bps, to 2.00%. Of course, the imminent default of $6.3 billion of loans issued by Clear Channel Communications, a subsidiary of iHeartMedia, would have a measurable impact on the Index trailing default ratio, pushing the measure to an estimated 2.73%. It will be important that investors read this as the culmination of a now 10 year-old failed LBO, and not a material pickup in systemic risk.
General Risks for Floating Rate Senior Loans: Floating rate senior loans involve certain risks. Below investment grade assets carry a higher than normal risk that borrowers may default in the timely payment of principal and interest on their loans, which would likely cause the value of the investment to decrease. Changes in short-term market interest rates will directly affect the yield on investments in floating rate senior loans. If such rates fall, the investment's yield will also fall. If interest rate spreads on loans decline in general, the yield on such loans will fall and the value of such loans may decrease. When short-term market interest rates rise, because of the lag between changes in such short term rates and the resetting of the floating rates on senior loans, the impact of rising rates will be delayed to the extent of such lag. Because of the limited secondary market for floating rate senior loans, the ability to sell these loans in a timely fashion and/or at a favorable price may be limited. An increase or decrease in the demand for loans may adversely affect the loans.
This commentary has been prepared by Voya Investment Management for informational purposes. Nothing contained herein should be construed as (i) an offer to sell or solicitation of an offer to buy any security or (ii) a recommendation as to the advisability of investing in, purchasing or selling any security. Any opinions expressed herein reflect our judgment and are subject to change. Certain of the statements contained herein are statements of future expectations and other forward-looking statements that are based on management's current views and assumptions and involve known and unknown risks and uncertainties that could cause actual results, performance or events to differ materially from those expressed or implied in such statements. Actual results, performance or events may differ materially from those in such statements due to, without limitation, (1) general economic conditions, (2) performance of financial markets, (3) changes in laws and regulations and (4) changes in the policies of governments and/or regulatory authorities. The opinions, views and information expressed in this commentary regarding holdings are subject to change without notice. The information provided regarding holdings is not a recommendation to buy or sell any security. Fund holdings are fluid and are subject to daily change based on market conditions and other factors.
Voya Investment Management Co. LLC ("Voya") is exempt from the requirement to hold an Australian financial services license under the Corporations Act 2001 (Cth) ("Act") in respect of the financial services it provides in Australia. Voya is regulated by the SEC under US laws, which differ from Australian laws. This document or communication is being provided to you on the basis of your representation that you are a wholesale client (within the meaning of section 761G of the Act), and must not be provided to any other person without the written consent of Voya, which may be withheld in its absolute discretion.
Past performance is no guarantee of future results.
Voya Compliance Approval ID IM0302-40511-0319